Nowadays, the issue of backup is very important. Starting to play more roles in every organization that must pay attention to For preventing loss of data and systems of corporate data caused by unexpected events in the future, whether it is a damaged device, being attacked by a virus, being a malicious target by a hacker or a bad person, an error in data transmission. , Power problems, equipment or data theft, natural disasters, errors by users or others In the event of an unforeseen event, a service called Cloud backup as a service can be used to backup data. to be stored on the Cloud itself.
Veeam cloud backup as a service platform ?
A system developed for a blank cloud backup platform capable of supporting Veeam Cloud Connect systems developed on a modular architecture with multiple components. Each element has a precise function. and work together with overall functionality It is easy to backup and replicas off site to a Backup as a Service (BaaS) or Disaster Recovery as a Service (DRaaS) provider. Cloud backup as a service platform ensures that your data will always be backed up. Always available and fully protected. Wherever you are, on Servers, Workstations, or in the Cloud, with complete and easy backup and recovery protection.

Reference design for backup services and explain how to use Veeam cloud connect backup.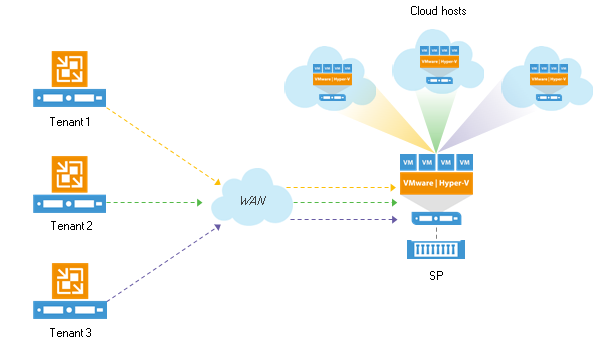 Service reference design and explain how to use Veeam cloud connect replication.
Features of Veeam cloud backup as a service platform
1. Web Based Management System Designed for Ease of Use Design a web based UI management system for you to easily access and manage your backup system. With just a few clicks, forget the complicated coding or command line!!
2. There is an Email & SMS OTP verification system. when registering
3. There is a Veeam Backup service system.
3.1 Location.
3.2 Storage Type.
3.3 Storage Capacity (GB)
3.4 Licenses.
– VMware/Hyper Virtual Machines to Backup.
– Physical Workstations to Backup (Desktop/Laptop)
– Other Servers to Backup (Physical, KVM, AWS, Azure, GCP)
There is a Veeam Replication service system.
4.1 Location.
4.2 Storage (GB)
4.3 VM licenses.
4.4 IP Addresses.
4.5 Networks.
4.6 Failover Resources.
– Processor (vCPU) (GHz)
– RAM (GB)
– Internet Traffic GB)
– MS Windows Licenses.
– VMware Replication Licenses (VMs to Replicate)
5. There is a price calculation system. When selecting Storage area , number of licenses automatically.
6. There is a basket system (Cart).
7. There is a billing system through Software-as-a-Service. accepted worldwide.
8. There is a Live Chat system.
9. have a dealer system.
10 There is a full tax invoice issuing system.
11. System Manual.
Benefits of Veeam cloud backup as a service platform.
1. The system protects your valuable information. from modern computer threats such as malware, ransomware, virus, trojan etc.
2. Protection of your valuable data from natural disasters, terrorism and riots.
3. A web-based management system designed for ease of use.
4. Confident with a validated system because we are a certified Veeam backup partner Gold level.
5. Support hardware service Premium level or Standard level are available to choose according to your budget and meet your own usage needs.
6. The system is stable up to 99.9% We are ready to serve you 24/7 365 days.
7. Supervise the development of the system with qualified and skilled people. This ensures that your backup system is well maintained.
8. Easy and uncomplicated cost control.
9. Supports a variety of payment formats, accepting payments that support both Bank Payments, Paypal and Billing Systems for Large Enterprises to serve.
If you are interested in such services, call us today. We have the best offers and options.
always for you Just call us at 045-959-612 or email [email protected]